Proposing Thermal Management for SiC, GaN, Si Power Devices and Power LEDs


High heat resistance and thermal conductive insulation sheet, ADEKA FILTERA BUR series
"High thermal conductivity" + "High Heat Resistance" + "High Adhesion"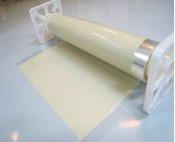 Power devices that use SiC, GaN, and Si, which have come under the spotlight in recent years as next generation semiconductors, and high-brightness power LEDs, which have gradually become widespread as LED headlights and streetlights, generate very large amounts of heat. Thermal release and cooling, therefore, are highly important to protect the electrical parts. Previously, their packaging was heavy and contained a large number of parts where large cooling fins, a thermal releasing silicone sheet, and a ceramic substrate were clamped together using bolts. Using the insulation sheets developed by ADEKA brings the benefits of greatly reducing these drawbacks.
With ADEKA's insulation sheets, the component mounting surface and the base metal for releasing heat can now be integrated by fixing the bonding sheet between an aluminum or copper base and a circuit layer using thermocompression bonding and curing.
For power devices, we offer the BUR-6000 series with thermal conductivity of 10 W/m・K, heat resistance (glass-transition temperature) of 300ºC, and copper foil adhesiveness (90º copper foil peeling strength) of 1.2 kN/m or more, which is the highest standard in the industry. As for automotive LED headlamps, we offer the BUR-5100 series, which is a low elasticity and high adhesion type, in order to reduce solder cracks.

Example of Existing LED Headlight Module

Example of LED Headlight Module That Uses The BUR Series Sheet