Environmental Conscious Halogen Free
Environmental Conscious and Safer Halogen-Free Formula
As plastics are basically highly flammable, flame retardants are needed to prevent fires. Typically flame retardants containing halogen are used to give flame retardancy to polyolefins. However, halogen type flame retardants generate a lot of smoke and carbon monoxide during combustion, and this is one of the problems during fire. ADEKA developed novel halogen-free flame retardants "ADK STAB FP series" that generate almost no smoke and carbon monoxide by forming intumescent layer, making them both environmental conscious and a factor in reducing fire-related deaths.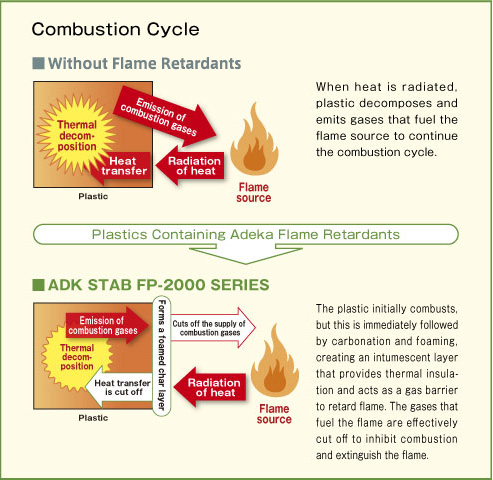 ADK STAB FP-2000 series got the first UL Verified Mark of functional material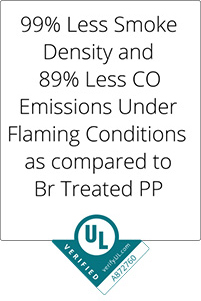 This unique and highly safety performance of ADK STAB FP-2000 series has been approved globally. UL, a global safety science organization, has issued the first UL Marketing Claim Verification and UL Verified Mark in the field of performance materials to a series of phosphorus flame retardants, "ADK STAB FP-2000 series" in May, 2017. The mark claims that the ADK STAB FP-2000 series produced 99% less smoke density and 89% less CO emissions under flaming conditions as compared to Bromide-Treated Polypropylene (PP). Please click here to refer further information.
Difference of Combustion State (Cone Calorimeter Test, Compliant with ISO 5660)
Polypropylene with ADK STAB FP-2000
Polypropylene with bromine (halogen)
based flame retardant
Applications for Environment Conscious Flame Retarded Plastic Materials
Plastics materials with high flame retardancy are widely used in everyday applications, ranging from consumer electronics and automated office equipment to building materials and automotive materials.
Typical flame retarded plastics are mainly polyolefins containing bromine flame retardants or polyvinyl chloride (PVC), but both of them contain halogens in the form of bromine or chlorine. As some bromine flame retardants might generate highly toxic dioxin-like compounds during combustion, there days more and more countries regulate its use. PVC is also concerned to generate toxic substances during combustion.For these reasons, some manufacturers and/or environmental organizations appeal not containing halogenated materials as its superiority.
Today, our intumescent-type flame retardant "ADK STAB FP-2000 Series" is being increasingly used as an alternative for halogenated type flame retardants. One of the major features is that it does not generate smoke and carbon monoxide during combustion. ADEKA group is now appealing its merit and safety to the society.
NOTE : "ADK STAB" is not used as a trademark in USA.