Greetings from Our President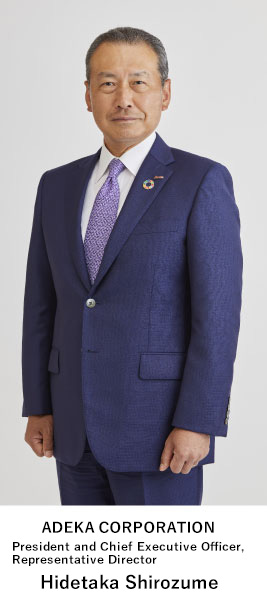 〝To be a company that is progressive and dynamic with a keen attitude towards the new changing tide″〝Creating a better future for the people of the world″
 Based on this ADEKA Group Management Philosophy, we are developing our business in the global market by using our unique and outstanding technologies to offer cutting-edge products that meet the needs of customers.
 The ADEKA Group aims to become a global company that contributes to the prosperity of society by creating tomorrow's value through cutting-edge technologies that contribute to society through its own business while leading the world's technologies under the slogan "ADEKAVISION 2025" as the challenge for 2025.
 Based on the results achieved in the previous mid-term management plan which is STEP 3000 II, the BEYOND 300 mid-term management plan, which is a second stage toward realizing ADEKA VISION 2025, we aim to achieve consolidated net sales exceeding ¥300 billion (organic growth), an operating income margin of 10%, and a 10% ROE in the final fiscal year (2020) under the basic policy of becoming a good company with sales of over ¥300 billion.
 In addition, the ADEKA Group has many products and technologies that contribute to reducing the environmental impact of society as a whole. We will deepen the awareness of each and every employee and further strengthen measures to contribute to the sustainable development of society and to resolve social issues.
 We are also keenly aware of the importance of achieving sustainable development while maintaining harmony with society and proactively meeting the expectations of our stakeholders, and are implementing corporate management philosophies that takes into account the common interests of our various stakeholders.
 We look forward to your continued support and encouragement.