Greetings from Our President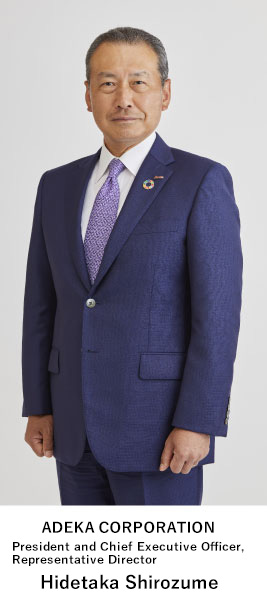 〝To be a company that is progressive and dynamic with a keen attitude towards the new changing tide″〝Creating a better future for the people of the world″
 Based on this ADEKA Group Management Philosophy, we are developing our business in the global market by using our unique and outstanding technologies to offer cutting-edge products that meet the needs of customers.
 The ADEKA Group has started to execute the mid-term management plan ADX 2023, which covers the three years from April 2021. ADX 2023 is a growth strategy developed to achieve the ADEKA VISION 2030, the Group's vision for 2030: an innovative company contributing to a sustainable future and affluent lifestyles.
 ADX means ADEKA's will to achieve transformation. We have achieved consolidated net sales of over 300.0 billion yen, a target of the previous mid-term management plan and a target we have been aiming to reach for many years. Meanwhile, we need to change into a more robust corporate group as a major crisis, COVID-19, is changing the world significantly. The core objective of ADX 2023 is changing our focus from simply expanding our scale, to expanding our scale while focusing on maximizing profit. We believe that we can maximize profit by pursuing both economic value and social value.
 We will strive to enhance our corporate value, to address new social issues, including carbon neutrality, and help achieve the Sustainable Development Goals (SDGs) in 2030. We will provide products that will contribute to the environment, harnessing the Group's technologies, and will create ADEKA Innovation Value in response to the expectations of society.
 We hope we can count on your continued support.