First Reactive Emulsifier Approved by U.S. FDA
ADEKA REASOAP is the first reactive surfactant certified as a Food Contact Substance through FDA's Food Contact Substances Notification Program*. Since 2019, ADEKA REASOAP has been FDA approved for use in adhesives and pressure sensitive adhesives, with a maximum threshold of 1% by weight (dry) of total monomers. In 2020, ADEKA received FDA approval to increase usage levels up to 3% by weight (dry). The latest threshold increase allows adhesive manufacturers to achieve optimal adhesion and water resistance while complying with stringent FDA regulations.

*United States Food and Drug Administration (FDA) Foods Contact Substance Notification Program: The system through which the U.S. FDA certifies submitted materials and substances as generally safe and available for use as a food contact substance (FCS).
ADEKA REASOAP Characteristics
Emulsifier containing reactive groups in molecules. Anionic and nonionic versions available.
Superior stability (freeze-thaw, chemical, mechanical) and water/weather resistance properties.
APEO(alkyl phenol) free types available.
Applications: adhesives, paints, coatings and films.
Key Benefits in Food Packaging Adhesives
Improves adhesion and water resistance.
Remains transparent for clear-on-clear "no label" look.
Excellent peelability for clean removal.
Certified by FDA for use in CFR 175.105 (Adhesives) and 175.125 (Pressure-Sensitive Adhesives)
Achieve optimal results with new FDA-approved dosage (up to 3%)
Improving Adhesion and Water Resistance Properties of Acrylic and Acrylic Styrene Resin
Emulsifiers carry out crucial roles in the manufacturing process of resin emulsions for adhesives, such as provision of polymerization reaction fields, pre-emulsification of monomers, dispersive stabilization of polymers and more. ADEKA REASOAP is a reactive emulsifier, which copolymerizes with monomers during emulsion polymerization. Compared with conventional non-reactive emulsifiers that are simply physically adsorbed to the surface of polymers, ADEKA REASOAP offers superior water resistance and adhesion.
Water Resistance Test in Coating Film with ADEKA REASOAP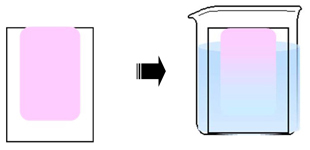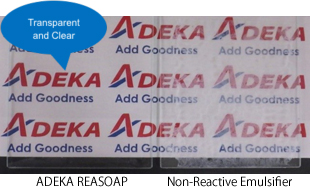 ADEKA REASOAP's Improvement of Water Resistance at Optimal 3% Dosage

*Immersion Time: time until letters in film on glass plate become illegible from clouding, while being submerged in 25 deg. C water.
Peeling Property of Pressure-Sensitive Adhesives
Pressure-sensitive adhesives require not only a sticking property to retain tensile shear strength, but also excellent removability to be peeled off without leaving residue. Adhesives with ADEKA REASOAP can be peeled off more cleanly than those with conventional non-reactive emulsifiers.
Peeling Test of Adhesive with ADEKA REASOAP