ADK STAB LA-F70 Protects Organic Materials from Ultraviolet A
Unprecedentedly High Absorbency Around 360 nm
Ultraviolet absorber (UVA) is essential for exterior and interior materials of automobiles and carports, which need high weathering resistance because it is exposured to sunlight directly.
Ultravioret A with its wavelength 320 nm-400 nm is said to affect almost all organic structure, but conventional UVAs cover mainly 280 nm-340 nm, this is why the demand for UVA covering longer wavelength has been increasing.
"ADK STAB LA-F70" has an excellent absorbency in the UV-A range (320 nm-400 nm), and especially has a very strong absorption peak around 360 nm. Moreover, ADK STAB LA-F70 has excellent heat resistance so that it is applicable for polycarbonate and polyethylene terephthalate, which require higher molding temperature over 280 ℃.
Improvement in productivity and lesser contamination via molding machine are also expected from this higher heat stability. In addition, ADK STAB LA-F70 can show its performance with a small addition amount of 1 phr (Parts per Hundred Rubber (polymer)). Its application range will be expanded more and more.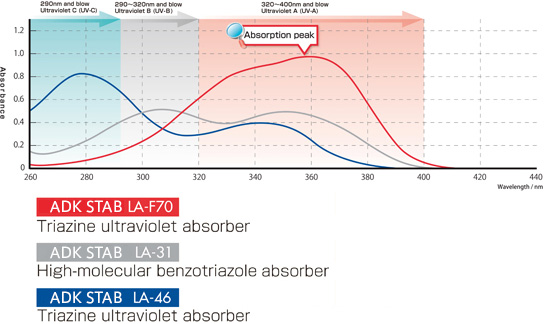 Wide Range of Applications in Protection of All Organic Materials
ADK STAB LA-F70 is suitable for sunglasses, snow goggles, and medical lenses for cataract patients because it shows high performance with low dosage. Also, in applications such as liquid crystal displays, smartphones and tablet PCs, it can prevent them from photo- and heat-degradation caused by outside light or strong light from a display backlight.
The action mechanism of ultraviolet absorber is simple. It just converts high energy ultraviolet rays into harmless forms such as fluorecsent light and/or vibrational energy. Though its main application is as a protector against photo-degradation for polymers, this unique characteristics would be effective not only for polymers but also for wider organic materials. ADK STAB LA-F70 is a widely applicable product.
A Product Example Exploiting its Characteristic of Ultraviolet A Absorption
Rear Window (Automotive)

Sunglass

A Product Example Exploiting its Characteristics of Excellent Heat Resistance and Low Volatility
Liqid crystal displays

Smartphone

Tablet PC

NOTE : "ADK STAB" is not used as a trademark in USA.