Electoronic Materials Development Laboratory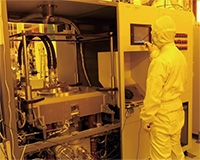 Electoronic Materials Development Laboratory quickly responds to miniaturization and acceleration of electronic devices, such as state-of-the-art ALD/CVD materials for semiconductors, using worldwide technologies. We are also committed to the development of processing chemical solutions that support micromachining and ultraprecision circuits, and packaging resin materials and copper pastes that utilize our original products. We will conduct R & D and technical support while staying in closer touch with local entities by cooperating with the ADEKA KOREA CORP. R & D Center in South Korea and ADEKA (CHINA) CO., LTD. Innovation Center in China.
Major Research Themes
Semiconductor materials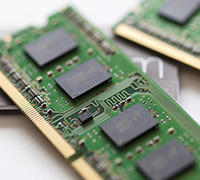 Our laboratory is working on developing metal complexes such as electrode materials and wiring materials that satisfy various specific characteristics, mainly high dielectric constant (High-k) materials for logic semiconductors or memories such as DRAM and NAND. We will further refine the materials by applying the complexes evaluation and film formation evaluation technologies, which will help in the development of next-generation materials.
Circuit Materials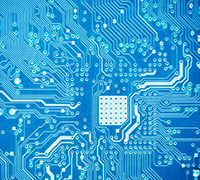 We have pioneered the development of next-generation etching materials, and have earned high evaluation from our customers both in Japan and overseas. In addition to conventional printed circuit board wiring, we have been promoting research and development for display and metal surface treatment agents. For the field of printed electronics, which requires energy conservation and lower costs, we are also developing thermosetting copper pastes that can exhibit conductivity equivalent to silver in atmospheric curing. We are engaged in research and development in cooperation with our customers to achieve a number of results such as stable production of fine patterns, substantial reduction in defect rate, and rapid improvement of productivity.
Featured ProductsCircuit materials
Packaging Resin Materials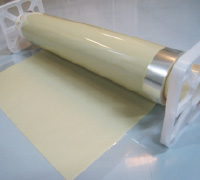 We are engaged in the development of thermal conductive insulation sheets for LED lighting and SiC (silicon carbide) power semiconductors. These thermal conductive insulation sheets that release the heat generated from the chips and protect the electronic parts are garnering attention as a trump card for realizing an energy-saving society. We have also accelerated research and development on the high heat resistant silicone reflector materials as hardness tablets which make the continuous automated molding possible. Our aim is to use our independently developed resins to produce high value-added materials which contribute to society in the fields of EVs, environment and energy-saving.
Featured ProductsSheet Materials for Packaging