The Delicious Taste You can Rely On
The delicious taste you can rely on.
We deliver delicious, secure and safe products to our customers.
With the slogan "The Delicious Taste You can Rely On" as its motto, ADEKA Group's food business "RISU BRAND" makes various proposals in terms of three vectors, "reliability and safety," "deliciousness," and "health."

Highly Reliable Fat and Oil Processing Technology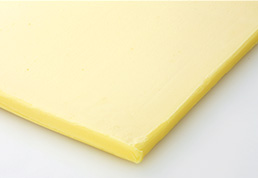 Since starting the production of RISU BRAND margarine in 1929, ADEKA's RISU BRAND has offered high value-added products developed by our own technologies to prepare raw materials for bread and sweets sold in bakeries and confectionery shops, supermarkets, and convenience stores for rich and varied diet. For example, we are promoting comprehensive research and development, including basic research on taste, aroma, and texture, development of new flavoring substances, and development of the applications to products, thereby offering high value-added oil and fat products, including margarine and shortening. Also, ADEKA's products, such as trans-fatty acid-reduced products and food additives-reduced foods on which we have made efforts ahead of the industry and put the highest priority on reliability, safety, and deliciousness, are highly trusted in the food industry.
Almighty Lineup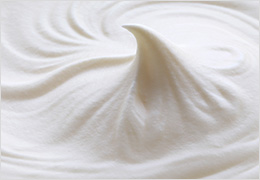 RISU BRAND, which started from the production of margarine, has developed various technologies, including fat and oil crystallization adjustment technology, emulsification technology, flavor adjustment technology. Combination of these technologies has enabled us to offer an almighty lineup of commercial use food materials to customers in a wide variety of areas in the food industry: We offer highly functional processed fats and oils, such as margarines and shortenings for realizing fluffiness or juicy texture of bread, frying oils supporting flavor, richness, and tastiness of fried foods, and fats and oils for chocolate which melt sharply; juicy and highly stable whipped cream indispensable for desserts; filling cream which diversifies bread and sweets recipes; and mayonnaise sauce capable of being microwaved directly from a freezer, etc. to customers in breadmaking, confectionery production, food-service, instant noodle, frozen food, beverage, and health food areas. Among them, our products for bread and western confectionery vary from products suitable for use in mass production plant lines to products having features not exhibited by butters and fresh creams and used in special retail stores.
Efforts for Food Safety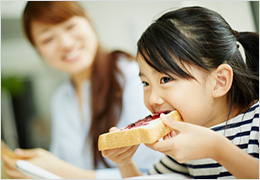 As a company dealing with foods, ADEKA offers "reliable and safe" products.
We promote improvement activities which are based on "5S," "4 safeties (labor, quality, equipment, environment)," and "PDCA cycle" proactively, and promote quality safety activities through supply chain management from raw materials to delivery, thereby winning customers' trust and offering safe and high-quality products on a global basis.
As for quality safety, we draw up a "quality safety policy" every year so that all departments, including research & development, procurement, and manufacturing, make efforts for quality improvement. Our original raw material information management system strictly manages information on raw materials from the stage of selecting raw materials so that only raw materials whose safety is confirmed are used. Production equipment is systematically updated not only in terms of conventional functions, but also in terms of those meeting demands of the times, such as utilization of images, thorough control of constant temperature, a plant access authentication system, advanced analytical instruments. Production processes of respective plants are managed by a management system which is designed for the scale of each plant. In old times, "TPM activity" was an example management system, but now, management systems incorporate the ideas of "FSSC22000" and "AIB food safety (GMP)" based on "ISO9001" and "HACCP." All of our three domestic plants and three out of five plants of our Group/overseas affiliated companies have acquired the international standards "FSSC22000."