Fine Pattern Etching Sysytem


Circuit Materials
About "ADEKA AFES SUPER SYSTEM"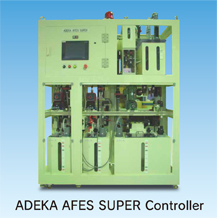 Circuit boards are widely utilized for various electronics such as television, a mobile telephone, a music player, and that kind of things. The most common industrial manufacturing process of circuit boards is copper etching. ADEKA is proposing "ADEKA AFES SUPPER SYSTEM" for manufacturing printed circuit boards, which are composed of a control unit and original etchants.
ADEKA AFES SUPER CONTROLER
The characteristics of our system are that a control unit constantly and automatically analyzes etchants and then can quickly supply special etchants and regarding in according to the analysis, the system makes it easy to perform fine pattern etching using our customer's existing etching machine and also helps to dramatically reduce total operation costs by improving productivity and yield.
"ADEKA CHELUMICA TFE series" for Fine Pattern Etchant
"ADEKA CHELUMICA TFE-3000 series" are enable to the wiring of 20μm pitch on less than 10μm copper thickness by subtractive process.
"ADEKA CHELUMICA TFE-5000 series" are developed etchants for circuit boards of IC package with fine copper wiring and enable to fine pattern etching in addition to special additives under Pitch 40μm on 20μm copper thickness beyond conventional technology.