We Use The Advanced Core Technologies to Develop Creative Technologies and Products.
Ever since its establishment, the ADEKA group has been building up our own core technologies that can be applied to a wide spectrum of applications in the business fields of chemicals and foods. In a society that has ever increasing demands for convenience, comfort, security, and safety, the ADEKA group has been attempting to create valuable products by combining unique technologies to contribute to realizing an affluent lifestyle for people all over the world.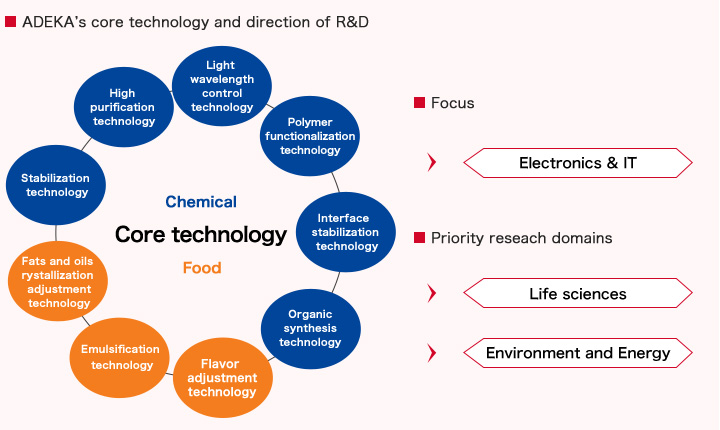 Expand Business with A Special Focus on Core Buisiness
-Polymer Additives and Food Products-


"Ever since its establishment as the pioneer producer of caustic soda in Japan, providing high-quality products at affordable prices as an alternative to the unstable supply of imported products, ADEKA has been developing new technologies and has evolved into a diversified chemicals company that responds to the contribution of Japan and international community. Polymer additives and food prodcts form our core business areas.
As a "comprehensive polymer additive manufacture," which are indispensable for enhancing the functionality of plastics, our polymer additives division has delivered a wide range of products worldwide. We will further accelerate the overseas expansion, and promote the development of new market-leading products.
With its brand slogan "The Delicious Taste You Can Rely On" as the motto, our foods division has been providing foodstuffs that have been consistently leading the industry. By constantly improving our fats and oils processing technology, we aim to promote healthy eating habits around the world, mainly in Asia."
Develop A Third Core Business
-Electronics and IT Materials-

ADEKA group has been committed to nurturing the growth of businesses related to electronics and IT as their third core business. The field of electronics and IT has been increasingly gaining importance with the expansion of IoT (Internet of Things) and development of AI (Artificial Intelligence). Now an even greater value addition is required in the devices that support information society, such as increasing the quantity of data handled, improving the processing features, and introducing new interfaces such as wearable terminals. ADEKA group will continue to support the development in the field of electronics and IT from the materials aspect by developing new high-quality material.
Create New Businesses and Expand into Other Fields
-Life Science, Environment and Energy -

The world's population is said to increase to 9 billion people by the year 2050, and simultaneously the percentage of aging population in the society is also bound to increase. Energy consumption and environmental deterioration are major concerns attached to the increase in population. ADEKA group identifies the field of Life Sciences, Environment & Energy as a crucial and growing area for the future generations, and is focusing on the field.