Toward The Reality of "ADEKA VISION 2025"
ADEKA VISION 2025
A global company that creates value for tomorrow and
contributes to affluent lifestyles through innovative technologies
ADEKA Group will develop a wide range of businesses around the world, including the chemical and food businesses that currently provide the operating basis of our group.
We will strive to become a global company that contributes to society (and affluent lifestyles) through our business operations while playing a leading role as a manufacturer in the development of global technology.
The position in management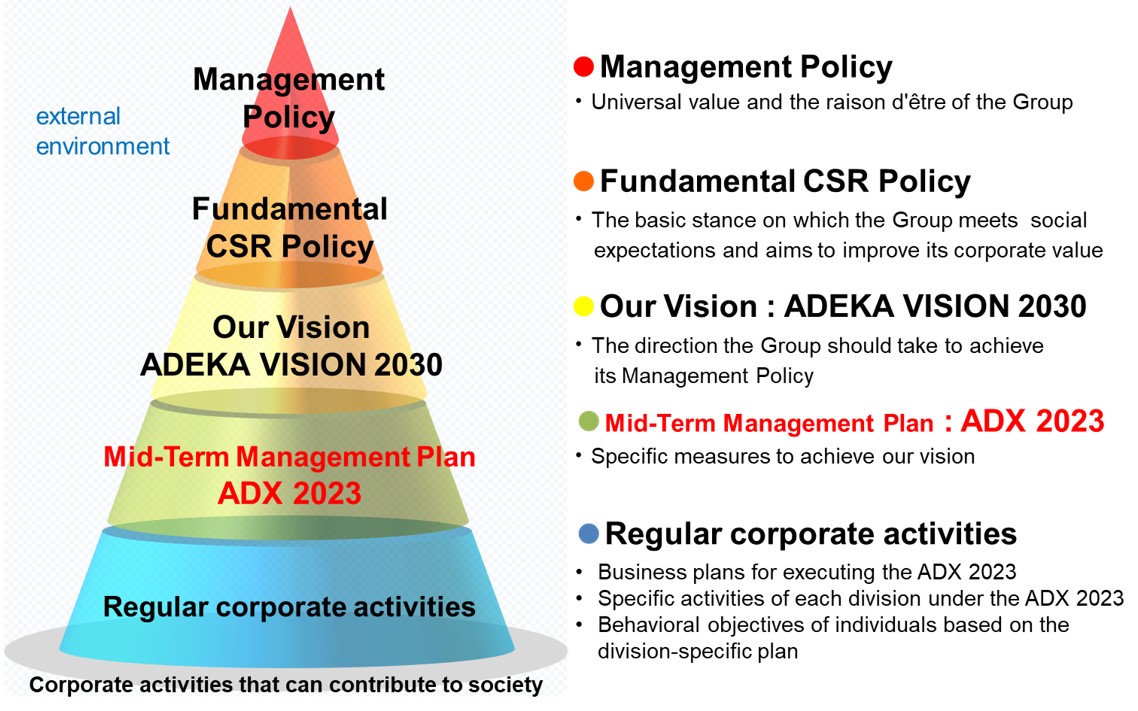 Mid-Term Management Plan 『BEYOND 300』(FY2018 - FY2020)
The ADEKA Group has formulated "BEYOND 300", a Mid-term management plan for the period from FY2018 to FY2020.
"BEYOND 300" is the second stage of ADEKA VISION 2025, which is the vision that the ADEKA Group wants to achieve by the year 2025. In this three-year period, we aim to exceed sales of JPY 300 billion via organic growth and strive for further expansion.
Overview
 Under the basic policy of "become an excellent company with sales exceeding
JPY 300 billion" , we targets "Consolidated sales exceeding JPY 300 billion (via organic growth), Operating income margin 10%, ROE 10%" for the final year of the plan(FY2020).
 We will also actively pursue M&A growth, aiming to expand our business domains and develop new businesses.
Basic strategies
Global expansion of three main businesses
 Globally expand sales of strategic products defined for each of our three main businesses; Polymer additives, Chemical products, and Food products.
Entering new domains
 Build business models and promote commercialization in the target domains of Life sciences, Environment, and Energy.

Enhancing our management foundation
 Promote CSR to increase our contribution to society and trust from society.
Enhance mutual cooperation within the ADEKA Group to leverage our comprehensive ability.
Five measures
Corporate management: Enhancing group corporate management
Cultivate common values for the ADEKA Group, establish systems and structures, etc., and enhance group corporate management.

Global business development: Expanding globalization and accelerating localization
Further expand globalization of procurement, production, and sales, while accelerating growth of individual overseas subsidiaries.

Technology: Creating innovation and enhancing competitiveness
In order to perpetually create products required by society, enhance R&D, promote new business development, and intensify/inherit production technologies.

Human resources: Expanding global human resources and leaders
Continuously invest in the human resources as our corporate asset to expand global human resources and leaders.
Corporate value: Promoting CSR and developing together with society
Improve our CSR promotion system, contribute to the solving of problems in society via our business, and utilize these efforts to achieve continuous growth.
Investments and finance plans
Three-year total: JPY 100 billion
(JPY 50 billion in capital investment, JPY 50 billion in M&A funds)