The ADEKA Group Fundamental CSR Policy
The ADEKA Group contributes to the creation of a sustainable future
by meeting stakeholders' expectations with technologies and reliability
through fair and transparent corporate activities.
 The ADEKA Group Fundamental CSR Policy expresses the basic stance of the Group to integrate management and CSR from the perspective of contributing to a sustainable future, continue to improve its corporate value to meet stakeholders' expectations.
The ADEKA Group CSR Priority Issues
 In order for the ADEKA Group to achieve sustainable growth as a member of global society, it is important to solve social challenges through its core business and actively contribute to the development of the world. In order to share these ideas with the entire group and work as one, based on the importance to internal and external stakeholders and the importance of our business, E (environment), S (society), G (governance), have identified seven CSR Priority Issues.
 Based on the identified CSR Priority Issues, we will set goals (KPIs) and promote initiatives with 2030, which is the target year of the goals of SDGs 17, in mind.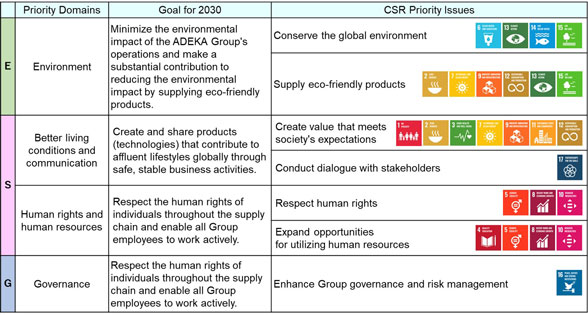 Click image to enlarge