ADEKA Group CSR Report 2020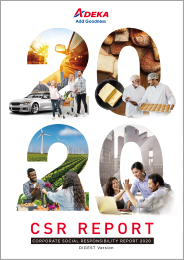 This report describes the unique activities of the ADEKA Group toward achieving a healthy and affluent society through all of its business activities, based on the Group's management policies. This year's report is a compact volume that focuses on the ADEKA Group's value co-creation story. The report also describes how the Group's technologies and products contribute to society.
The related data can be found in the ESG Data section at the end of the full CSR Report 2020.
Download all Pages (PDF file)
Back Number
Fiscal 2018 (April 1, 2018 to March 31, 2019)
Fiscal 2017 (April 1, 2017 to March 31, 2018)
Fiscal 2016 (April 1, 2016 to March 31, 2017)
Fiscal 2015 (April 1, 2015 to March 31, 2016)
Fiscal 2014 (April 1, 2014 to March 31, 2015)
Fiscal 2013 (April 1, 2013 to March 31, 2014)
Fiscal 2012 (April 1, 2012 to March 31, 2013)
CSR Reports published before Fiscal 2012