Greetings from Our President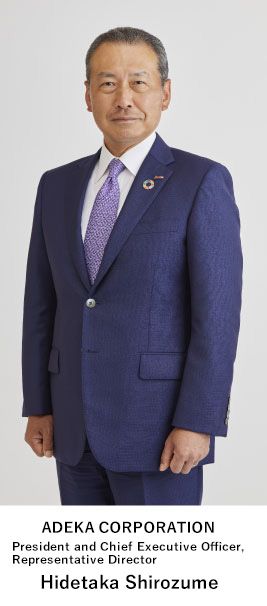 ADEKA Group aims to always pursue the creation of unique and advanced technology and to become a technologically top-ranking corporate group with a presence in global markets. At the same time, one of our fundamental management policies is to fulfill our corporate social responsibilities.
 ADEKA CORPORATION has established "ADEKA VISION 2025" to show the path we should be taken in the medium- to long-term range and keep our eyes on where we want to be in 2025, as well as for us to strive to be "a global company that creates value for tomorrow and contributes to affluent lifestyles through innovative technologies" through our core business, while leading the world's technologies as a manufacturer. To achieve this vision, we are promoting the three-year medium-term management plan "STEP 3000 - II" starting in FY 2015. These three years are "the period for achieving a good company with sales of 300 billion yen" and "the first three years of ADEKA VISION 2025" implementation to achieve its goal. During the period, we will promote strengthening of group business management, expansion of our business overseas and deepening of core technologies.
 ADEKA Group has positioned at the core of its management CSR based upon making social contributions through our main lines of business. Our company is managed with the bringing about of mutual benefits for us and our diverse stakeholders in mind, and it is our intention to further enhance our initiatives that contribute to social development. Going forward, we hope to realize the above objectives in partnership with our many stakeholders.