1910s
Western culture started entering Japan.

1940s
The period of postwar reconstruction and rapid economic growth.

1960s
Western cooking became popular in Japanese homes.

1980s
Use of personal computers became wide-spread in offices.

2000s
Use of smartphones became wide-spread.
Greetings from Our President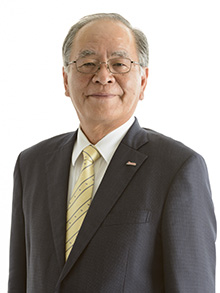 ADEKA celebrates its 100 anniversary in January 2017. I would like to take this opportunity to thank all our customers and many other stakeholders. Without their warm support, we could not have continued our operations for such a long period of time.

ADEKA started off as Asahi Denka Kogyo K.K. in 1917, 100 years ago, building on Tokyo Denka Kogyo-sho, with Furukawa Gomei (Furukawa & Co.) playing the leading role. Since then, we have been working relentlessly in both the chemicals and food sectors to deliver products of value to our customers. In 2006, the Company was renamed "ADEKA Corporation." Now the ADEKA Group has operational bases in 12 countries and regions.

A passage in the company prospectus from the time of foundation reads: "In the interest of Japan and its citizens, caustic soda production in Japan should be achieved as soon as possible." This spirit of foundation highlights the Company's original intention to contribute to Japan and its people and bring benefit and happiness to them as soon as possible, and this spirit has been handed down over the years. Our present management policy calls for "contribution to society through our business."

The ADEKA Group aspires to actively contribute to sustainable development of society as a global company while expanding our business fields through advanced technologies. We commit ourselves to carving out a promising future for the next 100 years based on the trust our predecessors have built up and through dialogue with a wide range of stakeholders in Japan and abroad. With this strong commitment, we will embark on the next bold step toward further growth.

I humbly request your continued support. Thank you.

CLOSE
Greetings from Our President